 Ather, the electric-mobility challenger brand, stood ready to open stores nationwide with the launch of the new Ather 450X scooter.

But electric vehicles had not yet managed to create desire or salience in one of India's most profitable economic sectors. The audience is aware of electric scooters but perceive them as eco-friendly novelties not associated with speed or powerful performance, especially next to the familiar internal combustion options.

The task was to break this legacy perception and claim mindshare for the Ather 450X as a pioneering game changer in the landscape. In turn, to give Ather the visionary credibility of a tech brand reimagining the future of urban transport. The Ather 450X is a measurably superior species among scooters in terms of tech, power and convenience. Rapid charging, fastest acceleration, self upgrading software, and several other surprises unheard of in the category so far.

For the brand to own thought leadership and all its very accessible possibilities, the communication had to rise above the product while staying rooted in it. We coined the phrase Transformative Bravery as an internal compass to find our way there.

Ather would speak to the like-minded early adopters and validate their choice to step ahead, separating them from the herd and defining their own uniqueness. An invitation to all who live for the high of being the first to take the next smart leap, to let them see Ather as a worthy brand to associate with.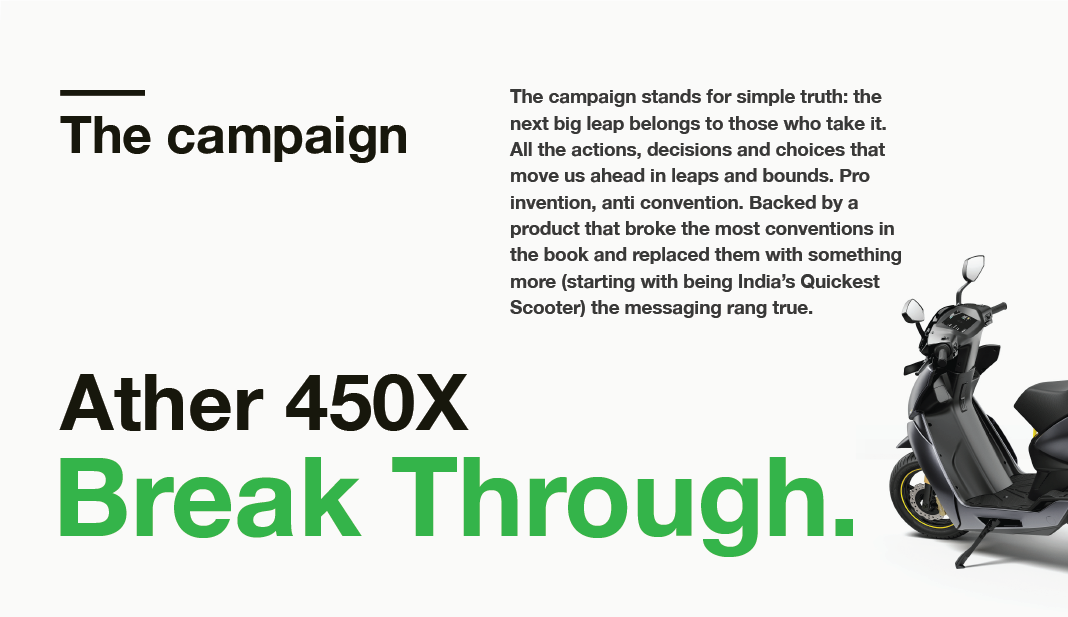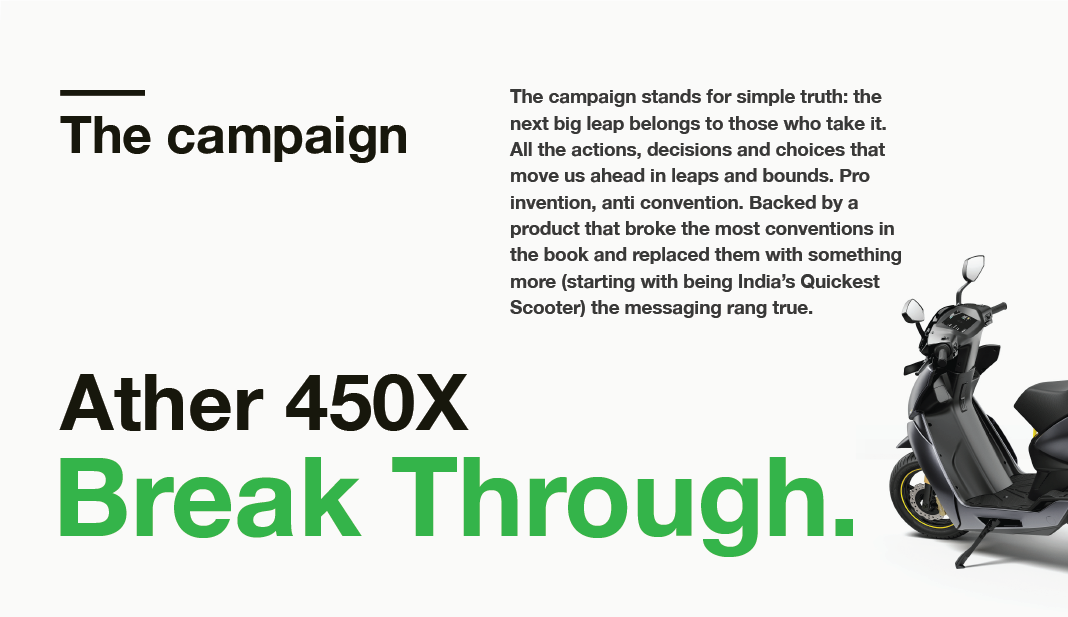 A larger-than-life story that gave the previously niche brand the voice and vision of a category thought leader. Starring a single protagonist intent on breaking away from convention to a whole new reality of urban mobility, what pushes him to do so, and what he finds. Apart from the clear message, signature treatment and soundtrack, the film is also packed with small details and subtle cues for the quick-eyed and repeat viewers that tip our hat to the journey of the brand and the category itself.


We knew we had to break the cliched automobile format for more than just a great product shot and self-congratulating product claims. Instead we played the part of the thought provocateur with a clear voice and visual personality to create dissonance and engage our kind of audience on the front pages.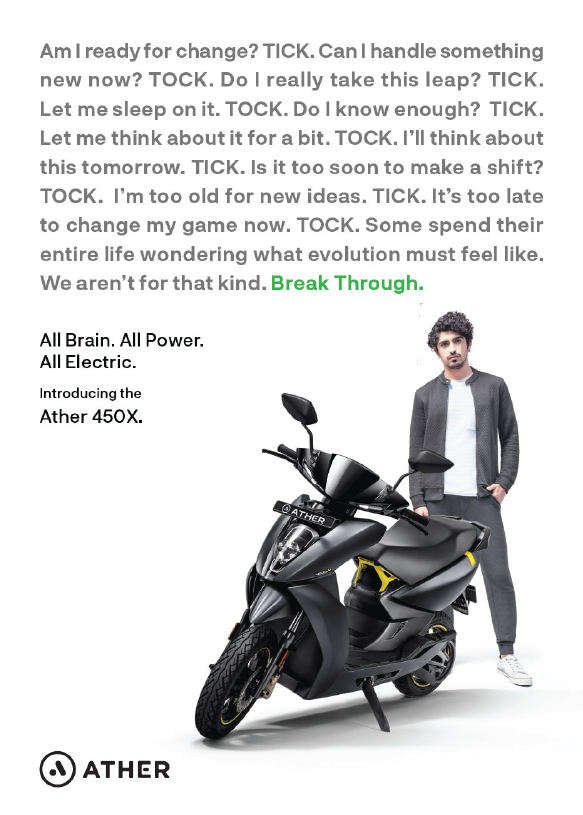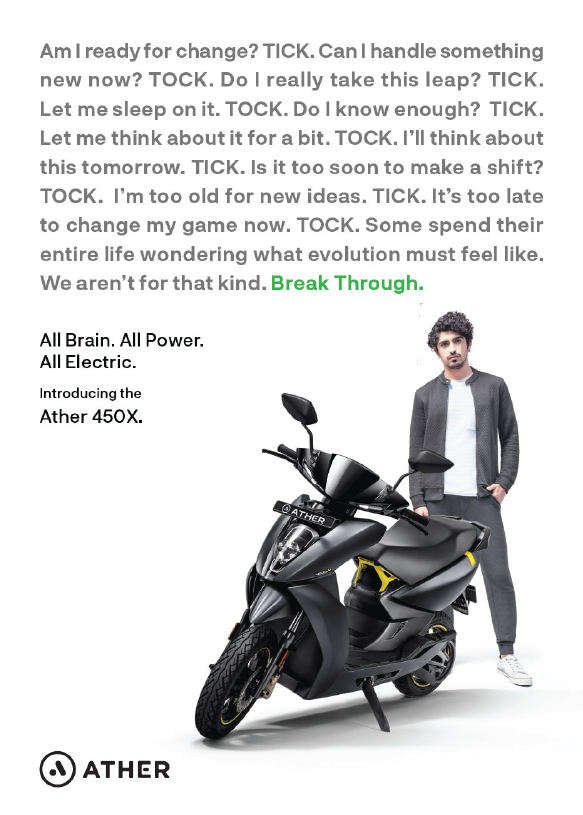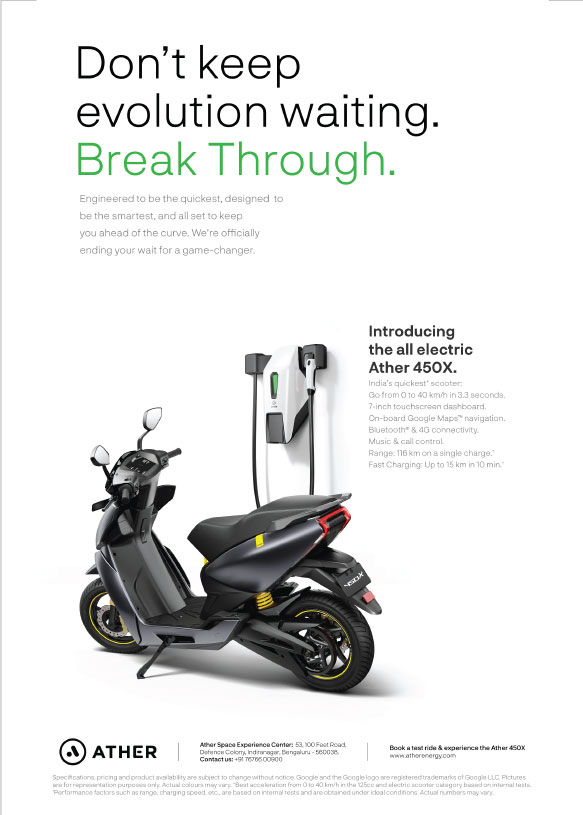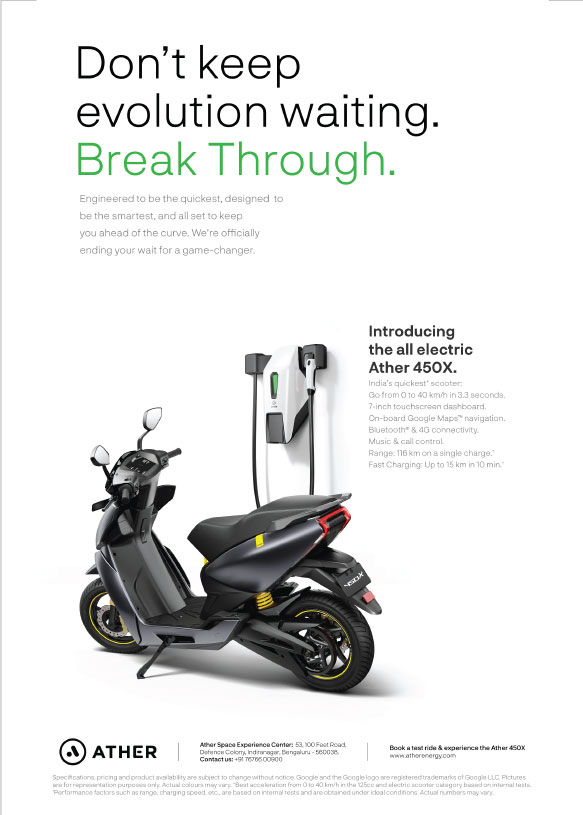 In 2 months,
5X growth in the number of Test Rides booked per day.
6X increase in website visits with 60% traffic being driven by offline media.
[unex_ce_button id="content_1akvoqw4o" button_text_color="#ffcb05" button_font="regular" button_font_size="16px" button_width="auto" button_alignment="center" button_text_spacing="2px" button_bg_color="#000000" button_padding="10px 30px 10px 30px" button_border_width="0px" button_border_color="#000000" button_border_radius="0px" button_text_hover_color="#ffffff" button_text_spacing_hover="2px" button_bg_hover_color="#353535" button_border_hover_color="#353535" button_link="https://www.thebravenewworld.com/contact/" button_link_type="url" button_link_target="_self" has_container="1" in_column=""]Want to tell the world about your game changer? Start here.[/ce_button]